Drive Traffic to Your Website with a Strong SEO Foundation
A website, if done correctly, can be a great asset to any business. A Search Engine Friendly website is the real secret! Many website designers overlook this critical web design issue because search engine optimization can be very difficult and is not "required" when designing websites. Unfortunately, many website owners are left wondering why no one finds their business on the internet.
Eagle Web is a Myrtle Beach website development company that offers nation wide quality search engine services, including organic search engine optimization and adwords services. Trust us with your SEO, and get your site ranked so you can get maximium traffic.
Search Engine Services We Offer
Organic Search Engine Optimization
Generate HTML pages following search engine guidelines

Write and insert the meta tags for each page

Modify content for search engine compatability

Error check CSS for search engine compatability

Develop XML Sitemap for Search Engines to follow

Submit the website to the major U.S. search engines!
Paid GOOGLE & BING sponsor ads

Setup and monitor your adwords campaigns

Optimize your adwords campaigns for higher rankings

Adjust your spending to bring you the best ROI

Develop separate landing pages on your website for tracking click-thrus

Monitor customer activity and conversion tracking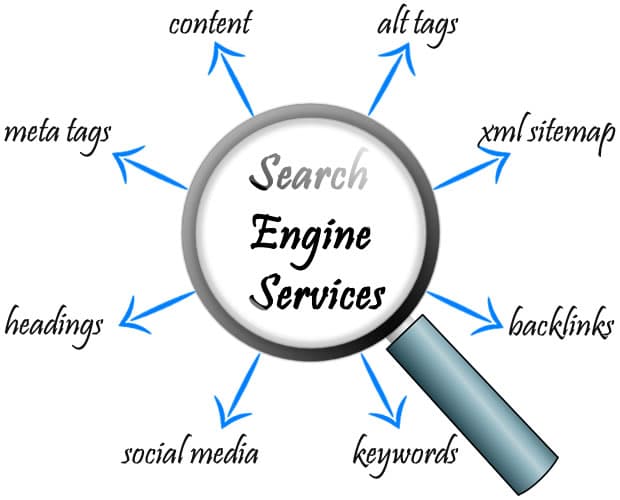 The TRUTH About Search Engines"
Guaranteed #1 Ranking!" – It's a LIE!
Let's straighten out that myth right away. There are no guarantees in search engine marketing and website optimization. If anyone tells you differently, you should check quickly to make sure they don't have their hand in your wallet.
When you work with a search engine marketing firm to promote your website, they cannot guarantee where your listing will appear. They can recommend changes to your site that will increase the likelihood of your ranking higher, but that is a long way from a guarantee.
If you don't control the medium, you can't guarantee the result. Since search engine consultants don't control the search engines, there is no way they can guarantee your position. Anyone who guarantees high rankings is a fraud because no one can guarantee Google or Yahoo will do anything, and the rules change constantly. (They will guarantee some keyword like your company name, but not a competitive word that would do you any good).
Certainly there are sponsor ads that will appear at the top of the search engine pages, but these are paid advertising spots. These were not indexed nor found by the search engines due to website optimization.
There is no 100% guarantee that your website will end up ranking #1 on any search engine.
However, through years of experience and experimenting, we feel we have come up with the best Search Engine Optimization and Submission collection of information available. Again, we don't guarantee a #1 position, but we will do what we can to get your website ranked at the top of the search engines.
Though search engine optimization (SEO) is not our main service, we do keep up with the latest rules and techniques.
Contact Eagle Web at (843) 215.9737 for a quote today on our SEO services!
Contact Us Today
We are ready to start your project! Give us a call or drop us a line.
671 Jamestown Drive, Suite 202-D
Murrells Inlet, SC 29576
Monday – Friday : 9am – 5pm