Content Management Systems Customized for Your Business
Content Management Systems, such as WordPress, have become popular because they give you, the owner, the ability to update your website any time from any computer. The problem with WordPress is it is very complicated, consists of large files that take up a lot of disc space, and is hounded by hackers constantly.
Custom CMS by Eagle Web
Are you the type of person that prefers to updated their own website pages? If so, A CMS is for you. Our Content Management Systems are state of the art, custom written, and secure software programs. We develop each CMS specifically for the client, so no two are identical. Since we custom develop them, they are not full of unwanted and unneeded plug-ins. We develop the CMS using the latest technology, programming languages, and security, but we don't over-stuff them with unnecessary programming and code. This is what makes a custom CMS so much better than a pre-built one, such as WordPress.
What is a Content Management System?
A CMS is a program that stores your website content in a database, enabling the user to login and update their website without any type of html code or programming knowledge.
Your website development company does the complicated work of building your database, programming your admininstrative area, and integrating your website into the CMS. They then "hand you the keys" to your website so you have the ability to add and update content at any time you want from any computer in the world.
Why use a custom CMS on your website?
You can update your website when you want and from wherever you want.
You don't need any html or programming knowledge.
You can add new pages any time without paying a website developer.
A redesign of your website later won't normally require a complete overhaul since the design and content are created and stored separately.
A custom CMS is SEO-friendly; much more than a pre-built CMS.
Why choose Eagle Web for your custom CMS?
Eagle Web will develop your CMS in-house. No outsourcing!
Our programmers have the knowledge to develop your CMS to meet all of your needs.
Eagle Web is here to instruct you on the use of your CMS, and help you if you have questions with it.
Because we develop the CMS, we can add to it and customize it any time you need.
Our programmers write only clean and approved code, which means your website will be Search Engine Friendly.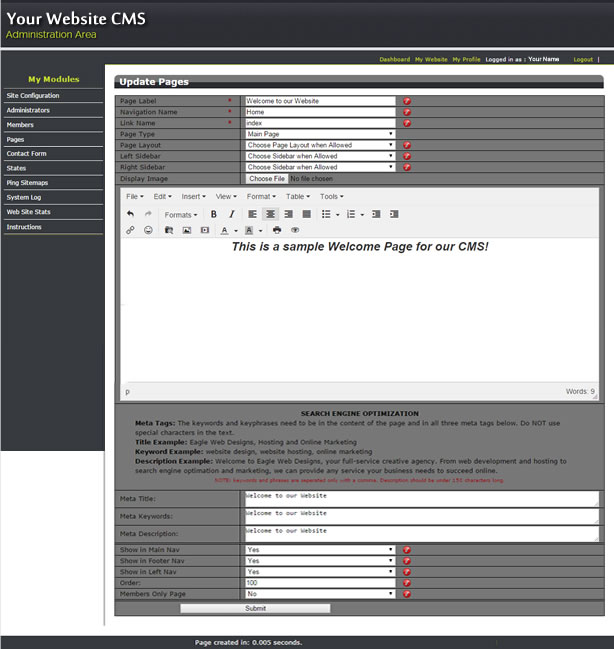 The best way to develop a CMS is while developing the website. However, we can usually integrate a custom CMS into just about any website. If you have a website and would like to consider turning it into a CMS website, contact us with the website address and we'll be happy to get a quote to you.
If your present website needs a revamp, let us rebuild it and include a Content Management System along with it.
Contact Eagle Web at (843) 215.9737 for a quote today on your own custom CMS!
Contact Us Today
We are ready to start your project! Give us a call or drop us a line.
671 Jamestown Drive, Suite 202-D
Murrells Inlet, SC 29576
Monday – Friday : 9am – 5pm